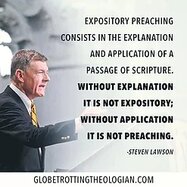 At Eastport, we are committed to explaining the Scriptures. The meaning of the Scripture is the Scripture. According to Webster, an "exposition" is a discourse to convey information or explain what is difficult to understand. Applying this idea to preaching requires that an expositor be one who explains Scripture by laying open the text to public view in order to set forth its meaning, explain what is difficult to understand, and make appropriate application (Webster's Ninth New Collegiate Dictionary, 438; Mayhue, Richard L. Rediscovering Expository Preaching, 10–11).
The Westminster Directory (1645) states that "the true idea of [expository] preaching is that the preacher should become a mouthpiece for his text, opening it up and applying it as a word from God to his hearers, … in order that the text may speak … and be heard, making each point from his text in such a manner 'that [his audience] may discern [the voice of God].'" That means that it is "the Spirit-empowered explanation and proclamation of the text of God's Word with due regard to the historical, contextual, grammatical, and doctrinal significance of the given passage, with the specific object of invoking a Christ-transforming response.
On that first resurrection day, Jesus "expounded to [the two disciples] in all the Scriptures the things concerning Himself" (Luke 24:27, emphasis ours). As the Prince of all expositors, He expounded the truth and illustrated His points. With consummate authority, He adopted the customary method of reading and exegeting the Scriptures (John 1:18).
Churches have removed themselves from "explaining the original meaning of the Scriptures." "Story-sermons, pop-psychology lectures, 'Dear Abby' style counsel, drama, musical productions, and interpretative dance are replacing true preaching" (Gary Gilley, This Little Church Went to the Market, p.115). John MacArthur said, "If preaching is to play its God-designed role in the church, it must be built upon the Word of God….Much preaching today emphasizes psychology, social commentary, and political rhetoric. Bible exposition takes a back seat to a misguided craving for relevance….Lamentably, there is a discernable trend in contemporary evangelicalism away from biblical preaching and a drift toward an experience-centered, pragmatic, topical approach in the pulpit."